The COVID-19 pandemic has required all of us to keep our distance physically, and although things are slowly getting under control, it is still too early to be planning big gatherings. This also means that we will not be hosting our annual Inspirational Tour as usual. We are obviously sad about this after having hosted no less than seven successful stages during the last three years – bringing hundreds of media people together for a full day of knowledge sharing and networking.
We do, however, find it very important that we use alternative ways to stay connected. That's why we've decided to host a virtual Inspirational Tour on October 1st. In other words, we are tapping into the "new normal" which is very much characterized by video meetings and social distancing – without compromising with the great benefit of learning from each other.
The new format also has some logistic advantages as it will allow us to give the event a more international touch with focus on cross-national best practices. We are looking forward to try out this format, and we can guarantee that you will be left with plenty of food for thought:
Learn about top performing e-paper cases


Some of your fellow, successful publishers will share their e-paper related best practices on topics like onboarding, subscription models, user engagement etc. We will begin to announce the speakers during the summer.




Tap into more than 10 years of e-paper knowledge


We will share some of the e-paper industry insights we've accumulated over the past decade, and we'll give some pointers to the future of the e-paper platform.
Be inspired without leaving your desk
The virtual setup allows you to participate no matter where you are resided. It has never been easier to get new insights into successful e-paper strategies.
Save the date!
Join us for an inspirational day of insights, valuable discussions and social distancing. By signing up now, you will be among the first to know about the program once it falls into place.
When: Thursday, October 1st
Time: 10:00 - 12:30 CEST
MEET THE EXTERNAL SPEAKERS: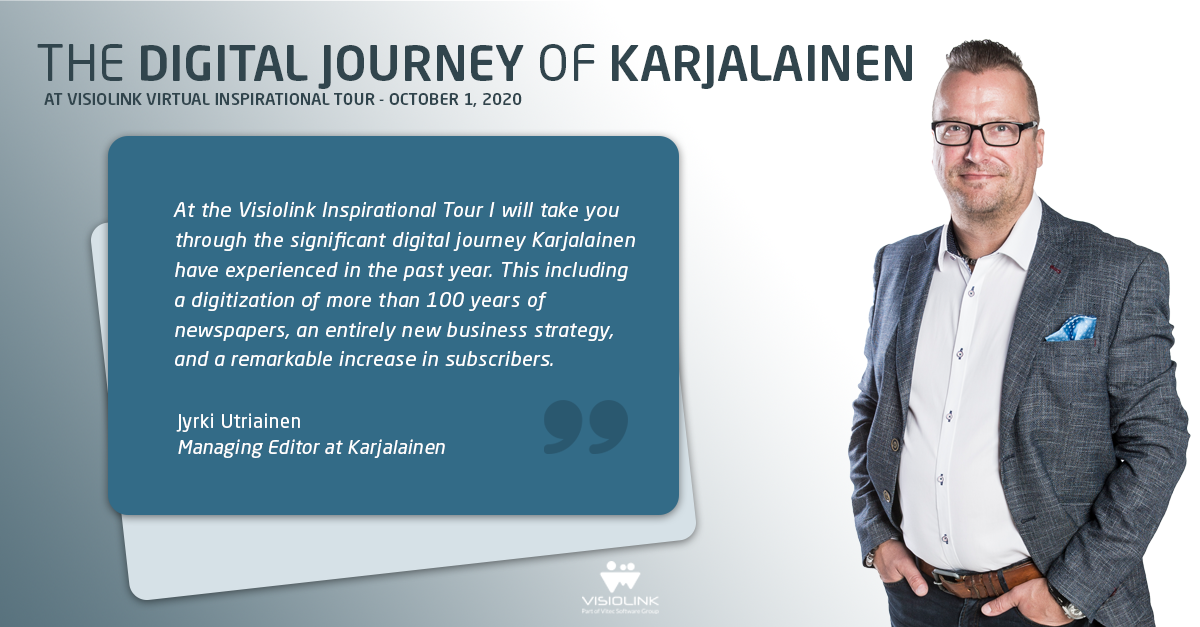 Finnish Newspaper, Karjalainen, will take you through their significant digital journey. This including a digitization of more than 100 years of newspapers and an entirely new business strategy with new subscription models resulting in a remarkable increase of subscribers. We are looking forward to welcome Jyrki Utriainen, Managing Editor at Karjalainen!

German media house, Lensing Media, will share their purpose and strategy of taking their e-paper to a new level - with more digital content - by investing in a new and innovative hybrid solution. Both Lensing Media and Visiolink are looking very much forward to dive into this highly interesting topic, and we hope you would like to join us as well!